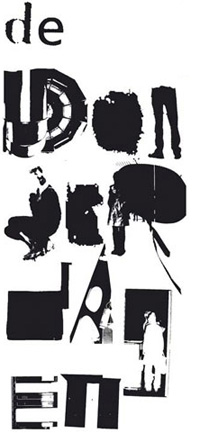 01/02/2007, De Singel, Antwerpen
Curated by Edith Doove.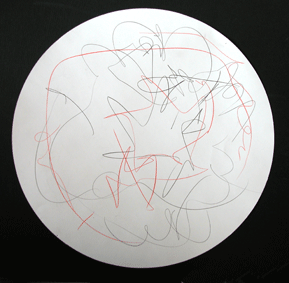 Nurse, Harrisson & Philip May
Lyricide: Prototype 0.1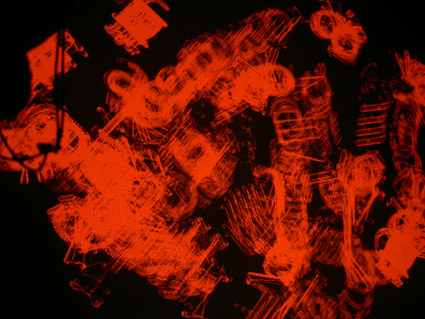 Nurse, Philip May and Harrisson played at the Singel in Antwerp, for "De Donderdagen" event curated by Edith Doove.
Nurse played a 40 min mix of visual artist sound works while May and Harrisson animated the screen with type and texts.
It was our first attempt at reworking the Lyricide project we started 2 years ago for a projet curated by Komplot called "Volle-Vox" at a Brussels theatre. Local visual artists where asked to perform a live or show a video.
Volle-Vox was based on ideas elaborated by the Lettrists, a French mouvement founded by Isidore Izou in the early 50's.
We got hold of 2 record collections containing a lot of this kind of work and put a sound mix together and a live visual animation using illustrator.
The latest versions of Lyricide have taken the experiment further with May bending the computer to allow more flexibility and a smoother manoeuvre of images.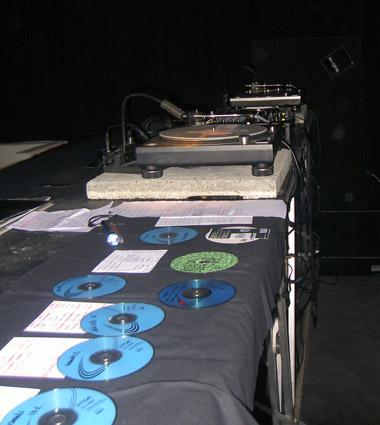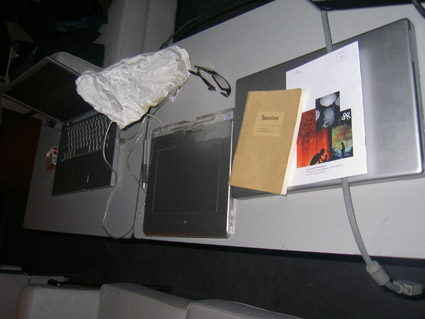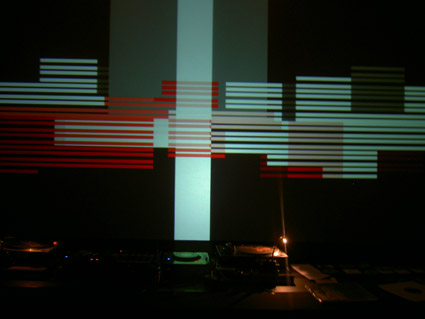 The texts used in the visuals and put to sound:
Richard Prince РKurt Schwitters РSamuel Beckett РJohn Baldessari РMallarm̩ РRichard Serra РRobert Barry РDan Graham РGertrude Stein РBrion Gysin РPaul de Vree РTristan Tzara РWim Cuivers РFuse РTobias Frere-Jones РConstant vzw РNetochka Nezvanova РWilliam Burroughs РVito Acconci РMomus РDe Gueuzen РLewis Carrol.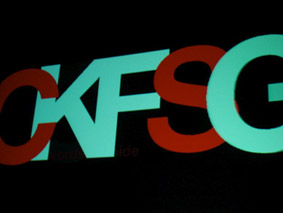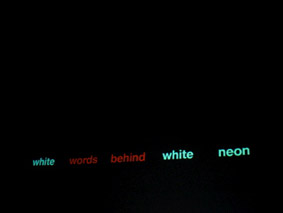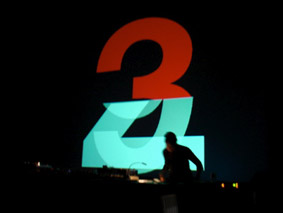 The sound pieces:
Christopher Butterfield – Sebastien Lespinasse – Diamanda Gallas – Sten Hanson – Jaap Blong – Jeux vocaux des Inouits – Phil Baines – Ensemble Ordinatur – Robert Barry – Joseph Beuys – Brion Gysin – Pauline Oliveros – John Cage – Hanayo – Rafara
РDan Graham РFran̤ois Dufr̻ne РSun OK Papi KO РSudden Infant РRaoul Hausmann РJelle Meander РYoko Ono РPaul de Vree РRichard Prince РArthur Petronio -Fluxus artists РRaoul Hausmann РArrigo Lora Totino РTomomi.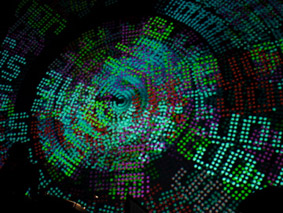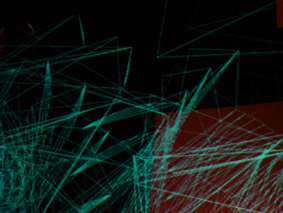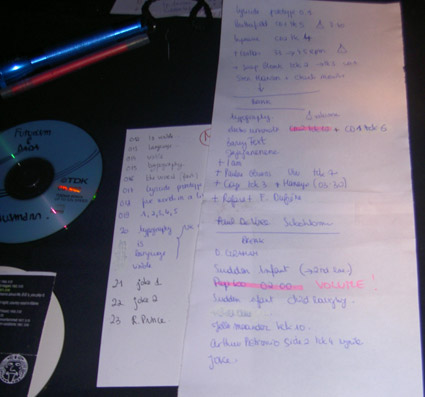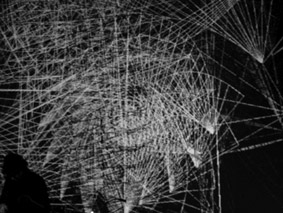 We played in front a full audience, with many young people…(a school teacher had hired a coach and brought his students to de donderdagen, with the historical pieces played in Lyricide, they sure got a large spoonful of sound culture in one go!) 🙂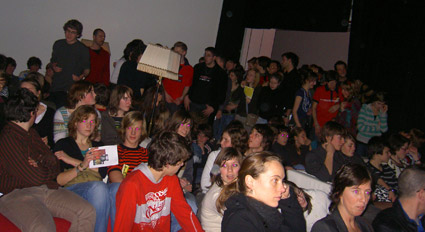 Then we went to see Anesiadou, Bryssinck & Peeters (B), who played a prototype too:
Saturna doesn't sleep, she waits…, a fantastic playful performance using acting, voice playback and sound, based on silent movies from the 20's. After a short introduction a story is told by the thre actors on stage. Eventually the three slip into the characters of the story. The performance plays on the notion of editing: the action is cut up, re-wound, re-played, repeted, at moments sound played on high speakers corresponds to the action on stage. Keep an eye out for next performances!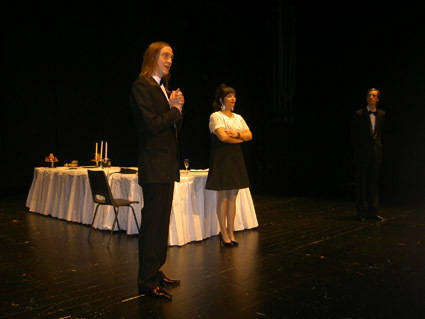 Later Dj Carl Marx and Nurse played some happy tracks in the bar.